 G-Data Internet Security 2013 (1 year 1 Pc)

$34.95 $32.50

GData13oNd


G-Data Internet Security 2013 Review

The G Data Database

For a company founded in 1985, G Data continues to innovate the Internet security marketplace with annual releases aimed at undercutting the competition and encouraging consumers to pay the cost of additional security features. G Data Internet Security Suite has just released their 2013 version onto the market, but the results are decidedly mixed. This latest suite includes two immense scanning engines alongside spam filters, firewalls, parental controls and web protection features, and isn't lacking in major features like customizable scans, reboot options and an adequate configuration range for its parental control interface.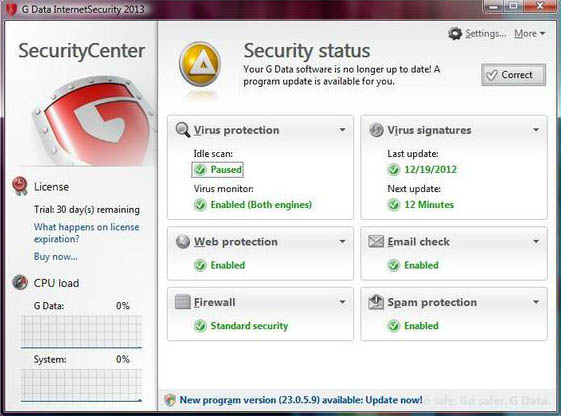 G-Data Internet Security 2013 interface
A Deeper Look

This security suite is one of the few suites on the market today that provides users mobile phone protection, and with the increasing popularity of mobile devices utilizing various WiFi and home connections, mobile security is definitely going to be a face on the future of security suites, and G Data has a head start. The bulk of the 2013 suite provides an easy-to-use interface streamlined with various security features that can be manually set up or automated for hassle-free protection: email checking functions, firewalls, spam protection, virus protection, and G Data updates aimed at catching the latest and greatest security threats. The G Data hub gives users the ability to quickly assess each of these security features from a single home screen, and this kind of accessibility is one of the suite's selling points. Not only are the configurations designed with simplicity in mind, but the entire security suite clocks in a relatively short installation time compared with other security suites of the day. Read
best Internet Security 2013 Suites review
.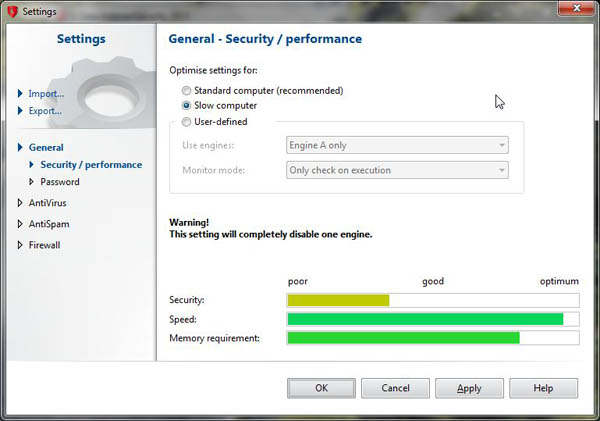 G-Data Internet Security 2013 general settings
Barebones Security

Despite the title, the G Data Internet Security Suite 2013 is not necessarily a barebones suite. Its features only come up wanting when compared with the more advanced security options available to users, and that can be a deceptive point against G Data. At its barest, this suite is an exceptional provider of Internet protection for both computers and mobile devices. It has options to protect users from every single form of malware known to the industry, scanning and filtering functions for personal emails, and a website recommendation protocol that advises users on the safest website choices while warning users against websites that have been found to host viruses and spyware. The 2013 suite has polished G Data's rootkit protection service and outfitted itself with a safe chat feature that can protect the new generation of users as they peruse their favorite social networking websites. Although G Data might be lacking in customization, its firewall is configurable, and there are roughly a dozen manual options allowing users a degree of control over the severity of their security against spam, phishing attempts, and other exploitable areas of the Internet age.

The Dilemma

G Data's main flaw is its failure to measure up to the advanced 2013 security suites. This suite does not offer an application control feature, a game mode option, any password managers, or the industry-standard sandbox option, which allows users to isolate themselves on a web browser in order to visit suspicious websites without risking the safety of their computer. However, G Data still offers a good foundational protection system along with a readily available email and telephone support line that operates twenty-four hours a day, seven days a week, and all year long.