 BitDefender Family Pack 2013 (unlimited devices)

$99.95 $49.97

Bitdefender Internet Security 2013 Review

Internet security is nothing to take lightly, as we have seen in recent years with high-profile network attacks affecting banks, government institutions and large corporations. It is no surprise, then, that consumers are looking for the best antimalware suites money can buy for their own computers and work stations. BitDefender has become a popular security suite and below, we offer a review so that you can decide for yourself if this software is what you are looking for.

Bitdefender Internet Security 2013 has received excellent reviews from PC World, PCMag.com and Techofy, some of the leading technical blogs in the country. A quick glance through their reviews reveals makes it easy to see why.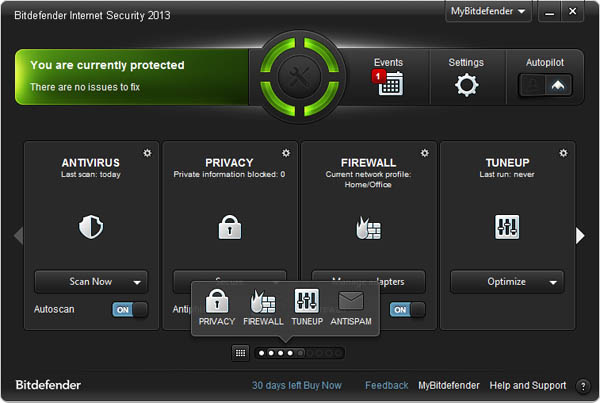 Bitdefender Internet Security 2013 interface
The Pros: What makes BitDefender Internet Security 2013 stand out in a crowd?

In PC World's real-world attack test, Bitdefender was one of the few security suites tested that actually blocked 100% of the threats thrown at it. It performed equally well in their malware-zoo test, scoring a 98.8% detection rate. The software detected and disarmed 100% of the infections in PC World's test pc and was able to completely eradicate all traces of infection 90% of the time. PC World suggests that Bitdefender had the best clean-up rate of all the suites they tested. PC World wasn't the only one to test this software and give it outstanding ratings; AV-Comparatives did so as well with similar conclusions.

PCMag also praises Bitdefender's phishing protections as well as its antispam software. Bitdefender comes with a plethora of bells and whistles, including online backup, PC Tuneup, encryption, parental controls and anti-theft. The software even allows users to manage their mobile device's services and apps from a Web portal called MyBitDefender.

The user interface is very attractive and novel looking and users agree that it is easy to use and intuitive. The user-friendly interface belies a level of sophistication and attention to detail that one would expect with a more complicated looking interface. The overall effect is a sleek, modern look which makes sense, as the program is fully integrated with Windows 8. Novices and experts alike will find their way around and be able to tinker and tweak the settings to their satisfaction without any problems.

BitDefender will not attempt to install a toolbar on your pc but it will install a widget that sits on your desktop while giving out security notifications throughout the day. Users who tested the product appreciated the fact that all the settings and options are available from the main user interface; no digging or hunting required.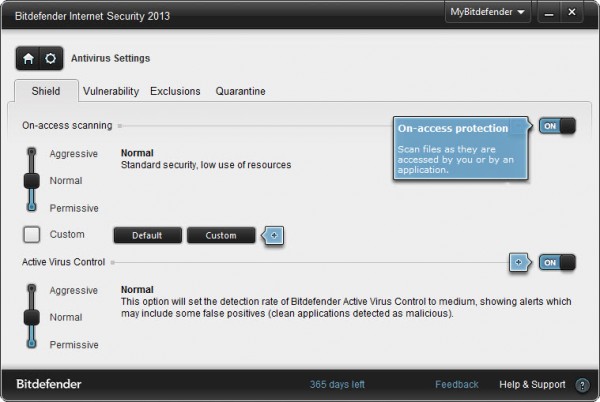 Bitdefender Internet Security 2013 antivirus settings
Cons: Weighty Software

As with any large piece of heavily active software, BitDefender is heavy. You can expect slightly slower start-up and shutdown times while running this program, though it is completely tolerable. The installation process, however, is a bit on the tedious side. With only six screens to click through, this may seem surprising, but each screen requires user input. This is not a bad thing but it does mean that it takes longer to install and set up than some of its competition. The only other con consistently reported was that the scanning speed times were a bit slower than the competition, though still effective and completely manageable.

Priced at around $70 a year for three PCs (with a price of $50/yr for one pc), BitDefender is very competitively priced. The interface is simple and clear but offers enough detail to keep major security professionals happy as well. BitDefender Internet Security 2013 is at the top of its class in terms of quality, user-friendly and affordable security software.
No code needed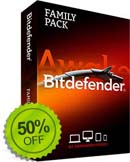 Like this review? Share it with your friends!