 Easeus Todo Backup Home 6

$29 $20.3

No code needed



EaseUs Todo Backup Home 5 vs 4 Review with pros and cons

Easeus products have been in the software market for nearly a decade now. Established in 2004, the Chengdu Yiwo software company has expanded to more than 180 countries, offering a variety of essential software solutions to millions of people. Among their successful products is EaseUs Todo Backup, a set of robust backup and recovery solutions for all types of users. There are specific editions targeting both professionals and novice home users i.e. Todo Backup Home, Server, Workstation and Advanced server editions.

We have taken a keen look at the current version of Todo Backup Home 5 and compared it with version 4. Here are the details to help you know more about these two versions and to assist you in deciding the best choice for your backup needs.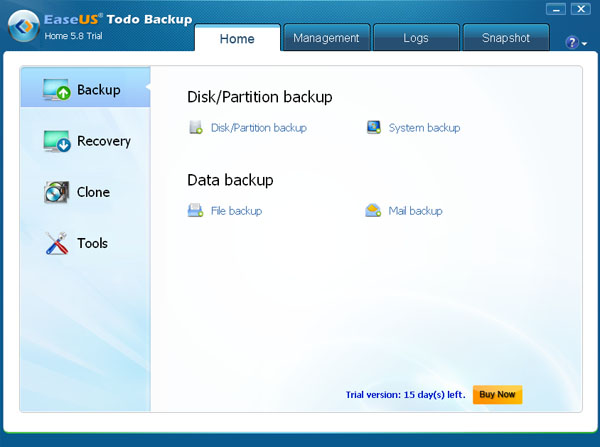 EaseUs Todo Backup Home 5.8 interface
Todo Backup 4

EaseUs Todo Backup 4 was first released in December 2011 as a free version. Free software versions were known to contain minimal helpful features compared to the paid versions. However, when Todo Backup 4 was introduced, it went on to compete with the other commercial backup software, offering robust data backup solutions at zero fees. This is because it has simple and clear tabs which contain all the necessary features that will enable you to do your backup effectively. The Home tab is all-inclusive and it has options such as system backup, recovery, partition cloning and several other disk backup and recovery tools.

The interface is simple and clear, making it easy even for the non-experts to perform backup activities fast and swiftly. Todo Backup 4 allows one to backup the full computer system as well as individual files/directories and partitions. What's more is that you are able to create daily, weekly or monthly backup schedules, ensuring that any changes made to your files are saved without you having to do it all the time.

When performing a full backup, the software creates a copy of the whole backup target, be it a simple file or the whole disk partition. Once you have created a backup copy, you can store it in a different local disk/partition or burn it onto a CD/DVD using your preferred disc creation utility. The application also allows you to clone your disks, mount any available images and restore your system form a bootable CD. Notably, Todo Backup 4 lacks advance backup features which could make it stand up to other commercial backup solutions. However, these shortfalls have been addressed in version 5.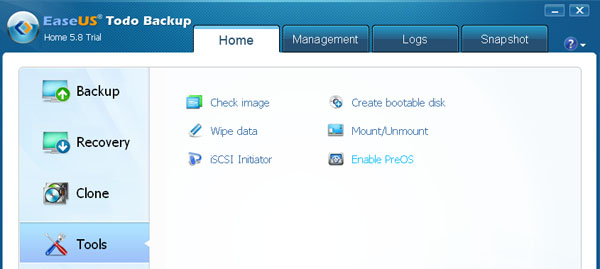 Easeus Backup Tools
Todo Backup Home 5

In August 2012, Todo Backup Home 5.0 was released into the market. The interface had undergone a transformation which made it even easy for one to navigate. The easily located icons, tabs and other commands make the backup and recovery process easy and hustle free. Several tools and options have also been introduced in the newer versions. Among the notable ones was the ability to backup all your email messages on Outlook. Mass storage support was also improved to enable one to backup up to 2TB of hard disk data.

As a commercial version, Todo Backup Home has been tailored to address the specific backup and recovery need of a typical home user. It is one of the easiest to install and use, making it suitable for the non-expert home user. The software has been tested and proven to be secure for use when dealing with your sensitive personal data. You can backup your files or the entire system in one single click.

The latest is version 5.8, which incorporates even more versatile tools that you would expect in a commercial product. To begin with, it supports several languages apart from English namely, Deutsch, Espanola, Italiano, Francais and Japanese. You are also able to receive live mail notifications and you can back up and recover data through File Transfer Protocol (FTP).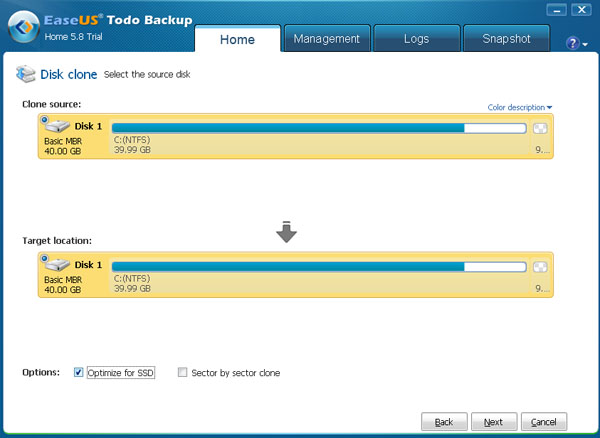 Todo Backup 5 disk clone
Pros

- Easy to install and use

- One-click universal restore option

- Incremental/Differential backup

- Backup schedules

- Mount images

- Disk cloning utility

- Backup/recover Outlook Email

- Backup/recover network data & map network drive

- Backup to CD/DVD

- Sector-by-sector backup/recovery

- Compression & image splitting

- Email notifications

- Password protection

- Cloud-to-cloud synchronization

- Clone/wipe/mount/unmount disk partition

- Check partition and image integrity

- System snapshot backup/restore

- Add driver

- Fix MBR

- Multiple language support

- Support Windows XP/Vista/7/8 (32 & 64 bit)

Cons

- 15-day free trial version has limited features (lack of WinPE bootable disk and system snapshot feature)