Acronis Backup and Recovery 12.5 Server for Windows Review and features comparison with version 11.

Companies need to minimize system downtime for the business to keep running smoothly. Acronis Backup and Recovery 12.5 Server for Windows is a relatively cheap solution that is easy to use and works fast and efficiently. The disk-image backup or snapshot is reliable and has a high level of accuracy; hence the IT administrator can utilize the time saved for other important tasks.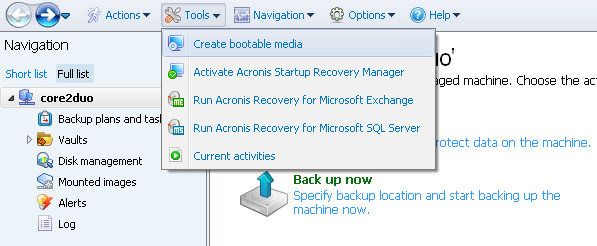 Navigation menu of ABR 11.5 Server for Windows
Salient Features of Acronis Backup and Recovery 12.5 Server for Windows

- The Acronis Backup and Recovery 12.5 package supports FAT16/ 32, ReiserFS3, XFS, JFS, NTFS, Ext2/ Ext3/ Ext4 and other major file systems as well as MBR, GPT, UEFI and BIOS; it thus ensures that the old server is compatible with the new one.

- It makes the recovery process smooth, consistent and fast for Volume Shadow copy Service (VSS)-aware application servers such as Oracle, Microsoft (MS) Exchange Server, MS SQL Server, MS Active Directory and MS SharePoint.

- The imaging technology is advanced enough to identify unnecessary files and unused blocks while taking backup. It also skips custom files and folders as specified by the user, thereby saving storage space required for the backup files.

- Backup can be taken of an entire system, including data, applications and the operating system. It is also possible to carry out incremental backups at regular intervals; this will only include the changes made after the last backup.

- Backup can be scheduled with automation retention. Staging of backups is possible between multiple locations.

- The backup process uses compression and 256-bit AES encryption techniques for improved data security of backup images.

- Individual files and application data can be recovered from the disk-image backup. This is useful for protecting data on shared networks and recovering certain files or folders that were corrupted or underwent deletion by mistake.

- It includes an automatic generation of a Disaster Recovery Plan every time a backup is taken; this document is detailed step-wise so that it can be executed even in the absence of an IT administrator.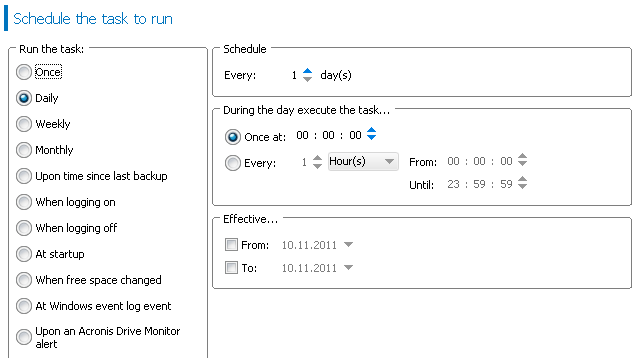 Backup task scheduler
Optional Features available for Acronis Backup and Recovery 12.5 Server for Windows

- Acronis Universal Restore feature allows the backup image to be recovered to any hardware even if it is dissimilar from the original machine. This tool takes care of installing all the drivers required for the operating system to get properly loaded on the new hardware. Universal Restore also allows recovery to virtual machines (VM).

- Acronis Cloud Storage is another optional feature; it allows backup files or their secondary copies to be put on a cloud datacenter for enhanced security and reliability.

Backup data selection: disks/volumes or files
Conclusion:

Acronis Backup and Recovery 11.5 Server for Windows has many improved features over the earlier version 10. The improvement noticeable upfront is the simplified, user-friendly interface; it also has an easier backup process for individual files and folders. Version 11.5 also includes new features and enhancements, like the backup and recovery capability for MS Exchange Server and skipping of redundant files and free space while taking backup. All this combined with its universal restore and cloud storage features makes Acronis Backup and Recovery 11.5 Server for Windows an ideal backup and disaster solution for small businesses, especially those having a single IT administrator. Acronis Backup for Windows Server 12.5
Get upto 80% Off Acronis Server Coupon Codes

$999 $333

No code required


Like this review? Share it with your friends!