 No code needed



Migo Digital Rescue Premium Review and step-by-step data recovery

Before data recovery programs were developed, there was no way to restore lost or deleted files on computers and other devices. Once important files are lost, they would be gone forever. But today, there are several applications that allow restoring of accidentally deleted or missing files. One of them is Migo Digital Rescue Premium, which can run on Windows 2000, XP and Vista. For $49.99, you can get this software and use it for restoring not only your files, but also your emails. Furthermore, it has a feature that permanently deletes data.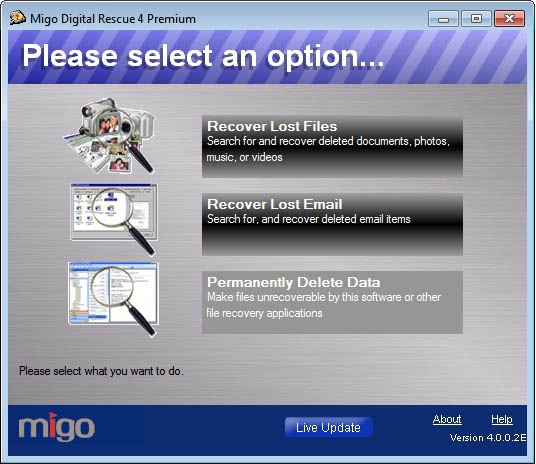 Migo Digital Rescue Premium UI
Recover Lost Files

Retrieving deleted files from your computer and other devices including mobile phones, digital camera, SD cards and external hard drives is fast and easy with Migo Digital Rescue Premium. It has a straightforward and simple user interface that even a non-tech savvy person will find uncomplicated to use. It supports recovery of all files types such as documents, photos, videos and music.

However, it can only retrieve files that were deleted. You may need to use another recovery program if you are trying to restore files that were lost due to other means like reformatting, partitioning, virus infection or corruption. Despite this limitation, it does a great job when it comes to restoring deleted files, even those that cannot be found by other data recovery applications.

When you launch this program, you will be given three options to choose from. They are Recover Lost Files, Recover Lost Email and Permanently Delete Data. To retrieve deleted files, follow the steps below.

1. Click Recover Lost Files.
2. Click the box next to the drive you wish to scan. It supports multiple scanning of drives so you can select more than one.
3. Click Search for Everything if you want to search for all deleted files on the selected drives. If you wish to search for specific files, click Search For and select documents, video, music or pictures. Click All or Part of the File Name and enter your keyword if you know the file name or extension of the data you wish to retrieve.
4. Click Search for Lost files to start the scan.
5. Once the program is done searching for deleted files, the search result will be listed on the window.
6. Check on the preview of the files to determine which you wish to restore.
7. Select the files to recover and click Recover Deleted Files.

Recover Lost Email

Deleted emails from Outlook, Outlook Express, Windows Mail and Thunderbird can also be retrieved using this program. But like restoring for other files, it can only retrieve those that were deleted and not those that were lost due to other reasons.

1. Click Recover Lost Email.
2. Select the method of e-mail recovery. This includes Outlook (Reconstruct Method), which will automatically restore all data in the Outlook database and Outlook Express, which will restore deleted emails from Outlook Express.
3. Click Select Recovery.
4. Once the program is done with the scan, the search result will be listed.
5. Choose the emails that you wish to recover.

Permanently Delete Data

While this is a data recovery program, it has an additional feature that lets you permanently delete data. If there are files that you want to remove permanently on your computer, this feature is very useful. Files that are permanently deleted can never be restored even if you use another data recovery software. Use this only if you are sure that you no longer need the files that are to be deleted. Click on Permanently Delete Data and choose the files that you wish to remove permanently.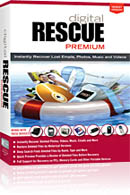 Digital Rescue Premium + Registry Repair

$79.98 $59.98