AVS4YOU Unlimited Subscription vs DVDFab DVD Copy Review

AVS4YOU unlimited edition and DVDFab DVD Copy share a few common features but vary in several ways. Both of them are useful, famous and user friendly. AVS4YOU offers 18 software tools in its unlimited edition package. These tools are divided into 4 major categories (Video Software, Audio Software, Image Software and Misc. Software). On the other hand DVDFab DVD Copy offers a single software pack and that particular software has several features of its own.

AVS4YOU and DVDFab, both feature the DVD copy function. AVS4YOU facilitates the users in coping from a particular DVD to a blank DVD. DVDFab does the same in this respect. But the later one illustrates its ability by copying a file from the DVD to hard drive as well. There are other features of DVDFab, like copying a customized fragment of a file to a blank DVD or hard drive.

AVS4YOU video software category converts video files formats (for example, from AVI to MP4 or from WMV to MPEG etc), lets the users to edit or remake their home made video by embedding various effects or removing unnecessary parts from the video. The category offers a media player and a video recorder as well. On the other hand, DVDFab allows the users to rip, burn or compress a big property file into a smaller one compatible for a little disk space.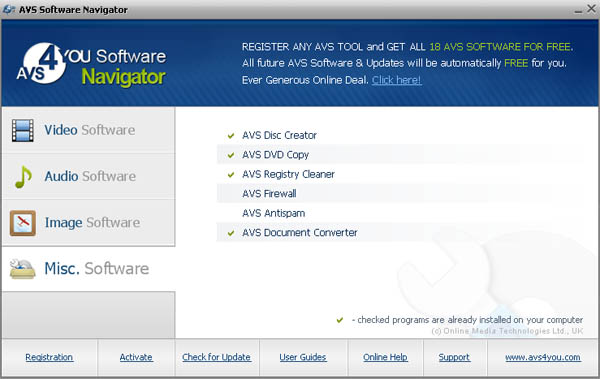 AVS4YOU unlimited edition software navigator
The Audio Software Category of AVS4YOU features ringtone maker, audio recorder, audio editor and audio converter. Users can play with an audio file and can flourish their creativity by using the editor software tool. Same goes to the Image Software Category. AVS4YOU has an image converter to convert image formats from one to another (JPG to TIFF or RAW to PNG etc.), a photo editor to edit photos to bring more life and art to it and a CD/DVD cover editor to let the users design the cover of their own CDs/DVDs. The Miscellaneous Software Category features disc creator, document converter, firewall for OS, registry cleaner, antispam along with DVD copy. AVS4YOU Unlimited Subscription


$59 $41.30

No code needed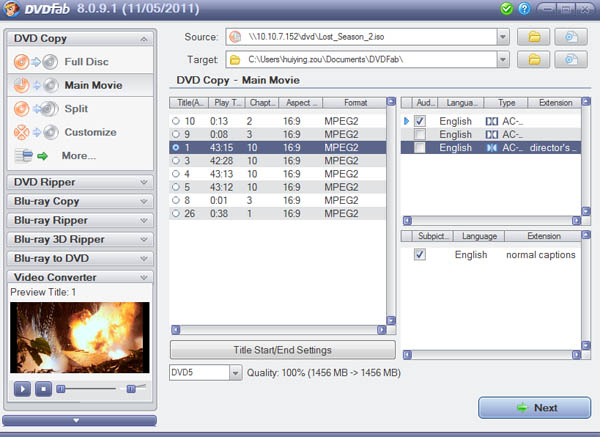 DVDFab DVD Copy interface
DVDFab, on the other hand, helps the users to copy from DVD-9 to DVD-5, DVD-5 to DVD-9 and obviously, to the same category DVD. While copying, the software offers 8 copy categories. The users can copy full disc to another blank disk or can copy only the main content of a particular DVD to another small DVD. A user can do the anatomy of a particular DVD content and split that into pieces, and then he can copy the particular pieces he needs to another DVD or hard drive.

Both the software provide 30 days trial version for the users. It's always better to use the trial version before buying. The AVS4YOU offers couple of licenses for the users. One is "Unlimited Access License" (the buyer has to pay once and can use for lifetime). For this license, the buyer has to pay $59. For the "One Year Access License", the buyer has to pay $39. For the DVDFab DVD Copy accordingly, the buyer has to pay $49 to get one year license.