Acronis vmProtect 8 Review and comparison with version 7
(vmProtect 9 has been released, check details
here
)
Acronis has, for a long time now, offered user-friendly server backup and disaster restoration tools. They describe themselves as a top provider of disaster retrieval, recovery and data protection products for all environments including physical, virtual and even cloud now. However, with the development of Acronis vmProtect 8, they can now offer recovery for users of VMware vSphere. The recently released vmProtect 8 is a backup and disaster recovery tool for servers. It is designed for VMware vSphere, which is specifically handled by vCenter. It easily works within that environment to ensure effortless backups of entire virtual server images. Additionally, vmProtect 8 delivers advanced features to the VMware vSphere environment. See also
Acronis Backup & Recovery 11.5 Virtual Edition for VMware vSphere Review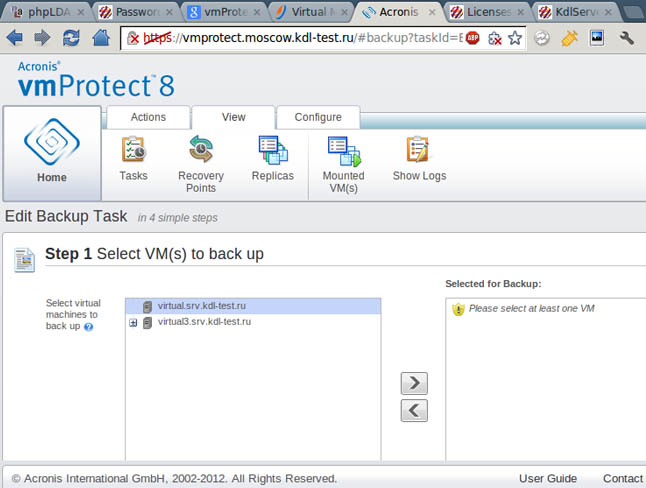 Acronis vmProtect 8 interface
So what are the key differences between vmProtect 7 and the new vmProtect8, and what has stayed the same? Well, there are a few things that vmProtect users might want to take note of, especially when considering an upgrade to 8. Here is a quick breakdown:

- Windows 8 support.

- Just like the vmProtect 7 version, vmProtect 8 can operate with any version of vSphere from 4.0 and up, and it still even supports ESX and ESXi hypervisors. (This excludes the free version, though, since it doesn't include vStorage API.).

- Deployment is also the same in both versions. In fact, vmProtect 8 still provides users the choice between using a self-contained virtual machine or using a Windows agent, and either one can be managed through the user-friendly browser interface. No installation on VMs is required.

- VM recovery remains almost the same, except that in version 8 users can restore their whole vSphere host.

- Another difference between version 7 and version 8 is that with the upgrade to 8 comes nonstop replication of VMs to backup hosts. This speeds up the recovery process exponentially.

- A handy addition to version 8 is the vCenter integration, which means backup and recovery and can be done through the VMware management console.

- Two other notable features not offered in version 7 that version 8 includes are the option to record a complete disaster recovery plan and the ability to integrate with a cloud environment for storage.

- One unchanged feature? Pricing, including no limit on the number of VMs that users need to have protected.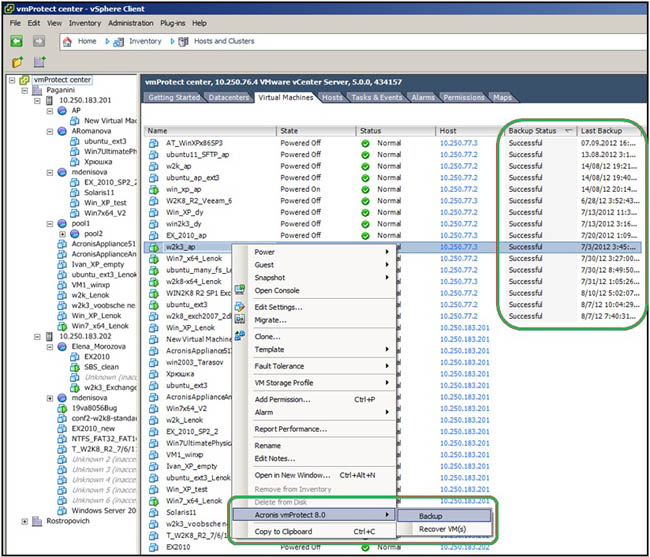 vmProtect Center
It's clear that Acronis vmProtect 8 blends together several enhanced features, a few newly designed ones, as well as better management options and VM replication of and support for Microsoft Exchange. It's this unique combination of features that highlights vmProtect 8's ability to boost and directly facilitate regular backup and recovery processes for VMware vSphere servers. Users considering an upgrade should make sure to consider these outstanding, version-specific features of Acronis vmProtect 8:

- Its user-friendly instinctive web-based user interface
- Its seamless integration with VMware vCenter
- Its new enablement of administrators to handle every detail from a single console
- It now even provides sophisticated replication capability with failover and failback
- The ability to operate a virtual network directly from its backup
- Drastic improvement of recovery times
- Bare metal recovery (BMR) for complete disaster and loss
- Recovery to different hardware In the event of total server failure
- Substantial minimization of downtime
- Newly added support for Microsoft Exchange
- Users no longer have to set up a separate Exchange backup when looking for specific emails and lost contacts

Acronis vmProtect 8's ability to backup virtual servers and recover Exchange directories, as well as their continued capabilities to salvage individual files, directors and directories clearly illustrates that Acronis can develop tools that fully meet user needs, as many online reviews of their products show. Specifically, customer reviews of vmProtect 8 say that users feel more at ease and have more confidence using it. Users especially appreciate that they can even recover remotely, no matter if they are recovering from a server malfunction or a complete system failure. They also like that vmProtect 8 isn't nearly as complicated to use, unlike other competing products, and. that it makes the entire recovery process painless. Though Acronis no doubt faces some competition, they prove they can do much more than keep up the pace.

Like this review? Share it with your friends! $200 Off Acronis Backup for Vmware Coupon

$599 $399


No code needed